Plan Z is a group of smart people in Karachi, Dubai, Kiel, and San Francisco who use their brains and fancy machines to create brands, products, and experiences that help their clients solve problems and capitalize on possibilities.
The values serve as a reminder to the team of who they are and what they aspire to be. They influence everything the team does, from their approach to work to how they treat others. They are aspirational and intentional in their aspiration.
The team had their fair claim of good fortune. Plan Z Hope is where they give back to those who haven't received anything. Plan Z has agreed to assist non-profits with all of their creative needs.
Syed Zohaib Ahmed, the founder of Plan Z, addresses the audience, stating that our vision is "Ascending above the Billion Mark," enabling one billion people to do what they love and grow their businesses with us, directly or indirectly. I want my company to realize this vision over the next ten years. We intend to develop, build, enable technology, scale cloud, assess consultancy, and evolve artificial intelligence. This ensures memorable, creative, and long-term engagement with our stakeholders. In a nutshell, our work gets the right people talking.
I made commitments to provide insightfully exceptional delivery to the industry. Along the way, I strengthened our core values to ensure quality in everything we do as a company, leadership by example, honesty and simplicity, and a focus on an excellent culture passed on to our clients.
In light of such work ethics, GoodFirms – a full-fledged research and review platform that assists software buyers and service seekers in selecting the best software or firm Plan.
Using its groundbreaking and foolproof research process, GoodFirms has been researching and reviewing companies and software products that could assist prospects. Quality, Ability, and Reliability are the three criteria used in the research process.
With an extensive stacked-up list of researched and reviewed companies and software solutions all in one place, service finders are seeing a significant reduction in their tasks, as they can quickly identify and choose the most relevant firm to satisfy their expectations on the go!
Plan Z assists you in developing, growing, and maintaining relationships with your customers. And we believe we've hands-on expertise at it. We've spent a lot of time pondering on this. So, what exactly does the company do? Do they design websites? Yes, on occasion. Does the company create apps or other digital products? Yes, Plan Z does make a lot of those.
After much deliberation, long reflective walks on the beach, and even a few conversations, we realized that what we do is make connections. We assist our customers in connecting with their customers.
The team makes sure that Plan Z provides valuable services to its customers. The professionals strive to provide high-quality service by continuously innovating and improving the customer experience with the unconditional offer to ensure highly valued services. Ergo, they are constantly working to improve services in order to make them better for their clients.
The team works with customers to shape your product to make them happier and more productive. Marketers at Plan Z create digital experiences that reach out to people looking for the clients' business, whether they are aware of it.
Thus, backed by such expert marketers' teams, GoodFirms has ranked Plan Z amongst the top digital marketing companies in Pakistan amongst the enlisted ones.
The review displayed below proves the quality of services rendered by Plan Z.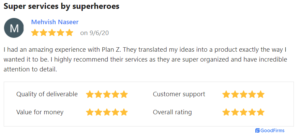 About the Author
Working as a Content Writer at GoodFirms, Anna Stark bridges the gap between service seekers and service providers. Anna's dominant role lingers to form every company's achievement and critical attributes into words. She strongly believes in the charm of words and equips new approaches that work, always with concepts, something new to create, and something unique to enhance the firm's identity.